718 Cyclery

https://rivbike.tumblr.com
If you'd like to design your dream bike from handlebars to wheels (and even help put it together), this Gowanusbike shop will meet your needs.
Focusing on adventure (mountain and touring) bikes as well as cargo bikes, 718 Clyclery has pioneered the "Collaboratively Built" process.
In addition, 718 hosts regular shop rides, week-long tours and races.
Third Avenue, Gowanus, Brooklyn
Tuesday-Friday 9am-9pm
Saturday: 9am-6pm
Sunday and Monday: Closed
Ride Brooklyn

https://www.timeout.com/newyork
Ride Brooklyn opened in 2009 on Bergen Street.
This shop offers a large range of bikes and accessoires.
But its speciality is its own indoor training studio which allows to workout through computer.
According to the company, "the system will track your cadence, wattage, distance, speed, and heart rate in real time, with your personalized ride information projected onto a screen in front of you."
It is also very interactive, as you can see on the screen a bike ride in "Real" life.
468 Bergen St,Brooklyn
Monday-Friday: 10am-7pm
Saturday: 10am-6pm
Sunday: 11am-6pm
50 N 7th St, Brooklyn
Monday-Friday: 11am-6pm
Saturday: 10am-6pm
Sunday: 11am-6pm
Roy's Sheepshead Cycle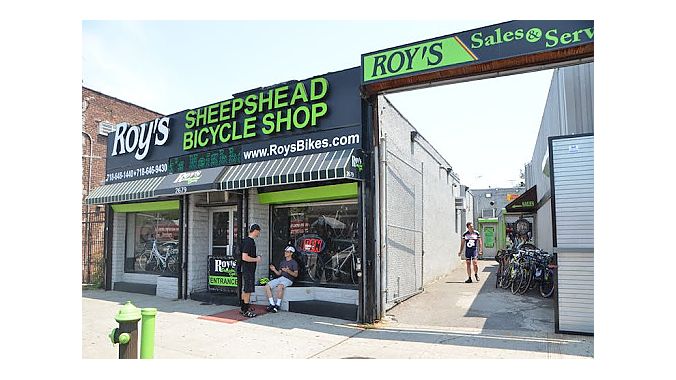 www.bicycleretailer.com
Roy's Sheepshead Cycle, opened in 1931, is the oldest bike store of Brooklyn.
This shop is open 7 days per week and has a great selection of bike and accessories.
2679 Coney Island Ave, Brooklyn
Monday, Wednesday, Friday and Saturday: 10am-6pm
Thursday: 10am-8pm
Sunday: 11am-6pm
I & M Bicycle Shop

www.imbicycleshop.net
This bike store is a family business opened recently in 2015.
The two "I & M Bicycle Shop" sell and fix bicycles 7 days per week.
274 50th St,Brooklyn
733 Church Ave. Brooklyn
Everyday:9am-8:30pm