You want to visit as much as you can and you don't have time to eat (or you just like fast-food), this page is made for you!
You can fin here a selection of popular spot that you may like (that are not only located in Brooklyn), but also local fast-food, that really worth it.
Shake Shack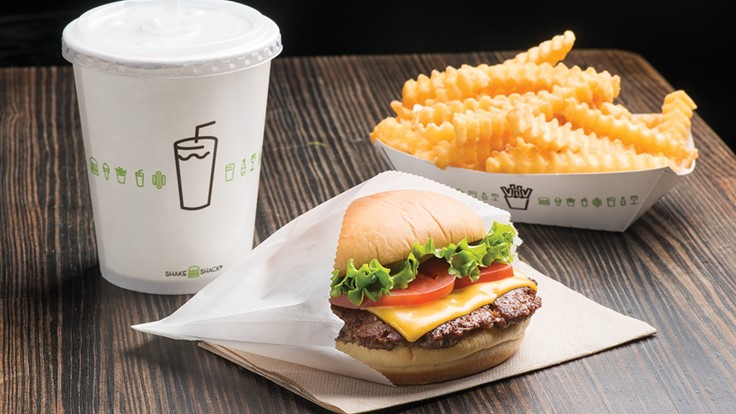 https://www.shakeshack.com/
Shake Shack is a fast restaurant chain, which started out as a food cart inside Madison Square Park in 2000.
Since this time, its popularity steadily grew and expanded its menu.
While it used to be a New York-style hot dogs menu, you can now enjoy hamburgers, hotdogs, fries and milkshakes.
Don't miss them!
Chipotle Mexican Grill

www.businessinsider.com
Looking for fast food with healthy ingredients? Chipotle is your best choice.
The menu consists of five items: burritos, fajita burritos, burrito bowls, tacos, and salads.
Price depends on the choice of chicken, pork carnitas, barbacoa, steak, or vegetarian (with guacamole).
Additional optional toppings: rice, beans, four types of salsa, sour cream, cheese, or lettuce.
Five Guys Burgers and Fries

www.bighospitality.co.uk
Five Guys is a hamburger, hotdog, and French fries chain.
The menu is centered on hamburger served with American cheese or bacon, kosher style hot dogs, grilled cheese and vegetable sandwiches.
French fries are the sole side item, available salted only in "Five Guys style" or seasoned "Cajun style".
The best burgers for a lot of tourists and New Yorkers!
Nathan's Famous

www.bigboysoven.com
This "old school" fast-food has been launched firstly in Coney Island (in Brooklyn) in 1916!
Nathan's famous features now several restaurants all over the world and has become the most famous hot-dog fast-food in the world.